Overview - Features and benefits
Digital Photo Gallery makes it easy for teams and organisations to work together on collaborative galleries.
Our powerful image management tools help to capture, organise, share and distribute photographs live from events.
From festivals to fashion shows, DPG allows you to centralise content from different photographers to display on the web in beautiful branded galleries.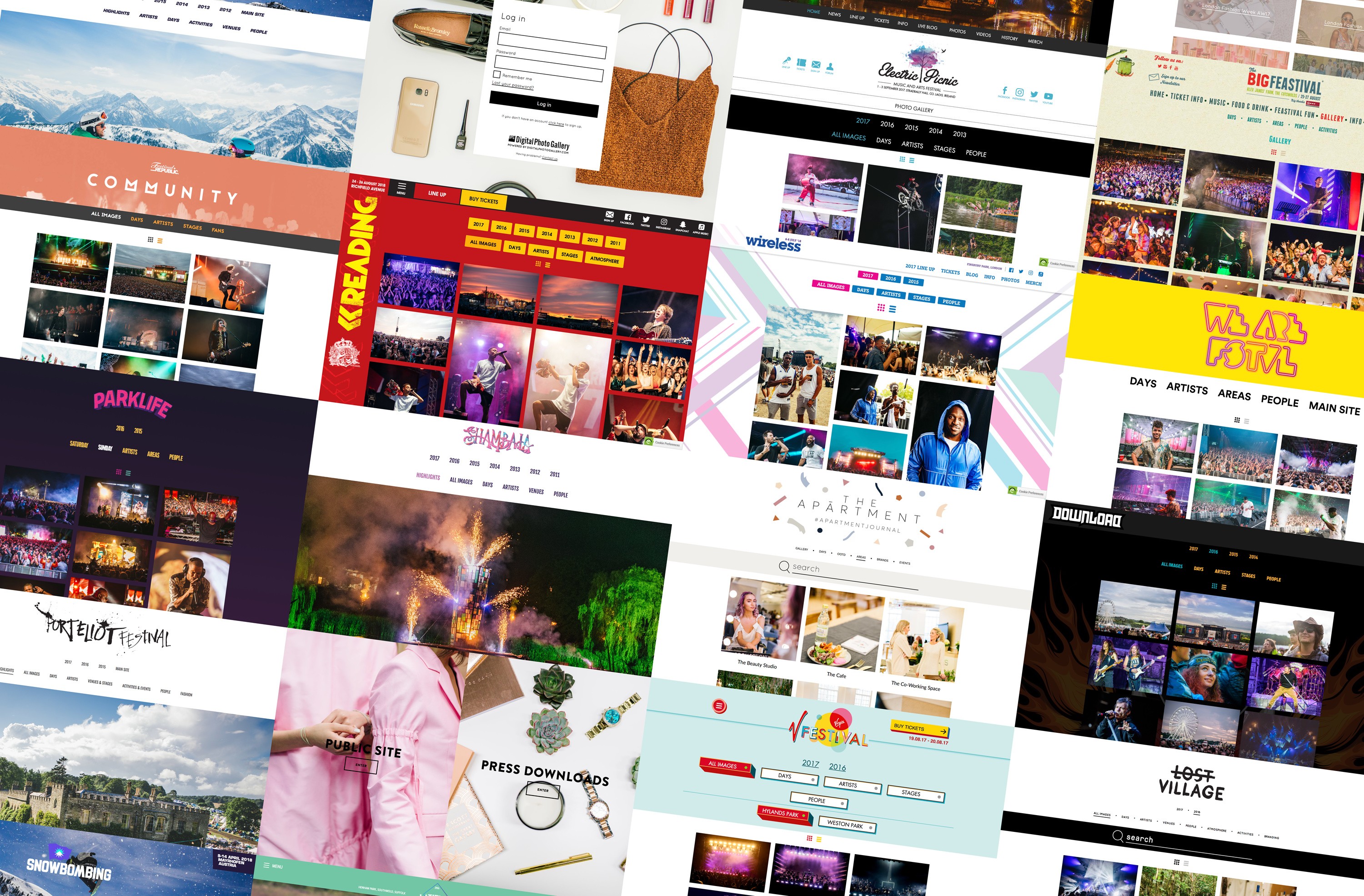 Websites for events
Easy to create and maintain multiple websites for different events.

Simple to use templates designed with events in mind.

Completely customisable designs using our visual editor, or full HTML skins to integrate seamlessly into your existing site.

Made to work beautifully on all devices from mobile to 5k display.
Press Sites for distributing content
Secure sites with logins for easy year-round access.

User tracking, comprehensive statistics and invisible watermarking.

Automatic image versions optimised for posting to social media, custom versions in your chosen size and aspect ratio.

Built-in search.
Team-focused workflow
All Photographers need to do is shoot, keyword and upload straight from the event. Information is never lost and creators can concentrate on taking beautiful images.

Full metadata support includes photo credits, to make sure that attribution is always easy and accurate.

Set up rules for uploads to flag any problems as soon as they happen.

Tailor the level of access allowed to each member of your team as needed.
Image Archive
Images are all in one place and categorised for easy access.

Keyword tagging, automatic AI-powered tagging, full metadata support, and search, so you can always find what you're looking for.

Create zip archives to batch download or share.
Advanced features
full HTML website skins to seamlessly integrate into your existing site.

API integration with sites and mobile apps.
Established & supported
Used by teams around the world since 2009 at world-class events, DPG pioneered live galleries at festivals.

Extensive support guides to take you through every aspect of running an event gallery.

We're always on hand to answer any question via our email support.

Additional live support via Slack by request.
Scales with your team
Plans starting from £25 a month for small teams.
We work with a huge range of events, from small teams needing an image archive, to world-famous events with large teams of photographers over multiple years. We'll make sure you have the right plan for your needs.