Pages - Customising the Consent Banner
Cookie regulations and privacy laws differ throughout the world. It's your responsibility to make sure that your policies are accurate and relevant to your website to be compliant.
The DPG consent banner allows you to obtain opt-in consent from your visitors on their first visit to your website. Use the Cookie Policy page to provide more information on cookies collected. Create a Privacy Policy page to provide your visitors with a clear and transparent explanation of any data collection and processing.
Changing banner style
The consent banner appears on your first visit to the site. If you've already accepted the cookies, you can trigger the banner again via the Cookie Policy page.
A link to the Cookie Policy page can be found in the footer of the site. For compliance, this should be easily accessible by visitors in case they wish to withdraw consent at a later date.
In the Design section, choose the Cookie Policy page from the page navigation. Once the page has loaded, find the Edit consent preferences link and click it to trigger the consent banner. In the side panel go to Page then Privacy tab. Here you can choose between the different banner styles. Click the Save button to apply and view a different style.
Banner styles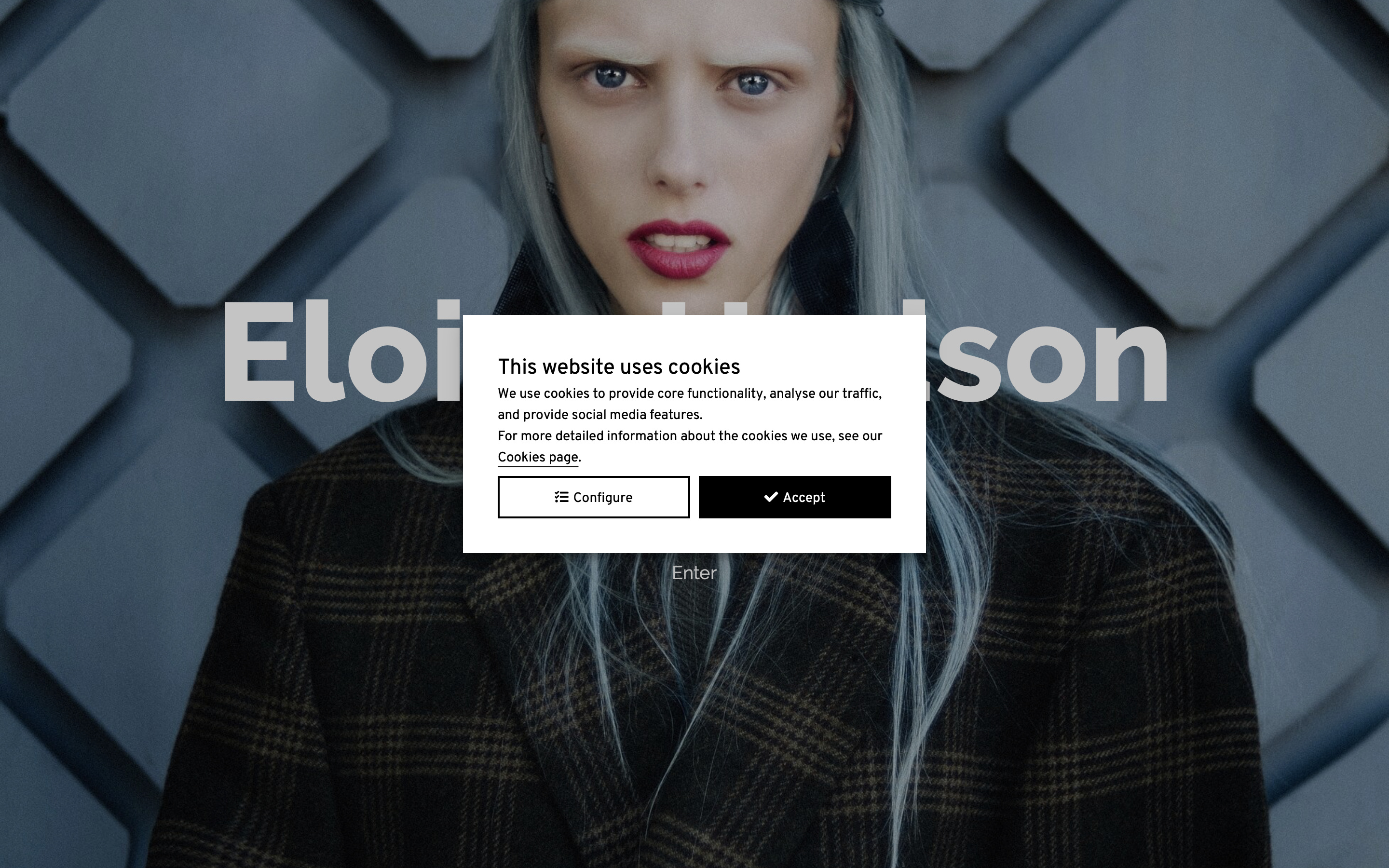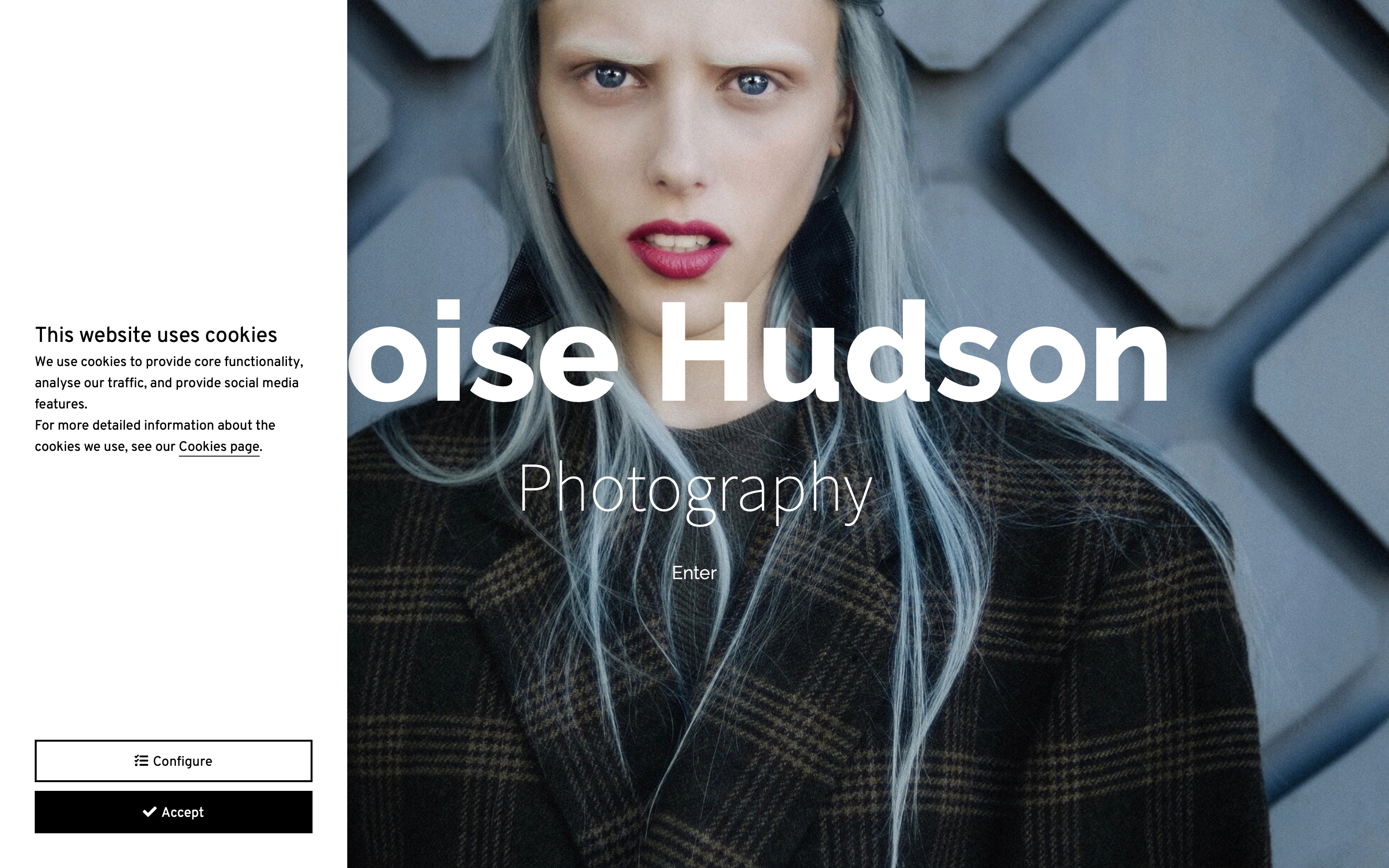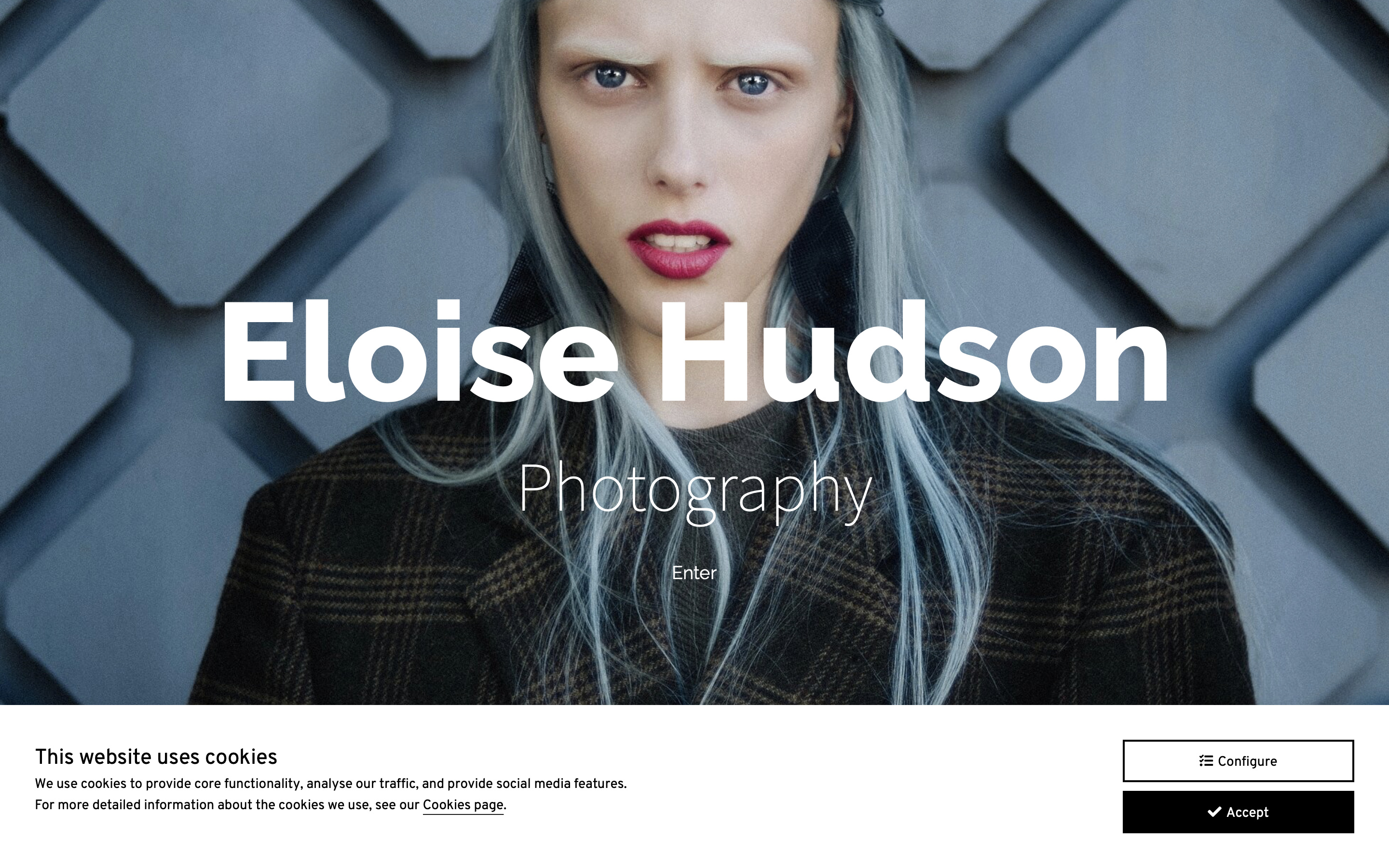 Configuring the banner
This option requires you to be in edit mode Advanced, learn more about edit modes
here
.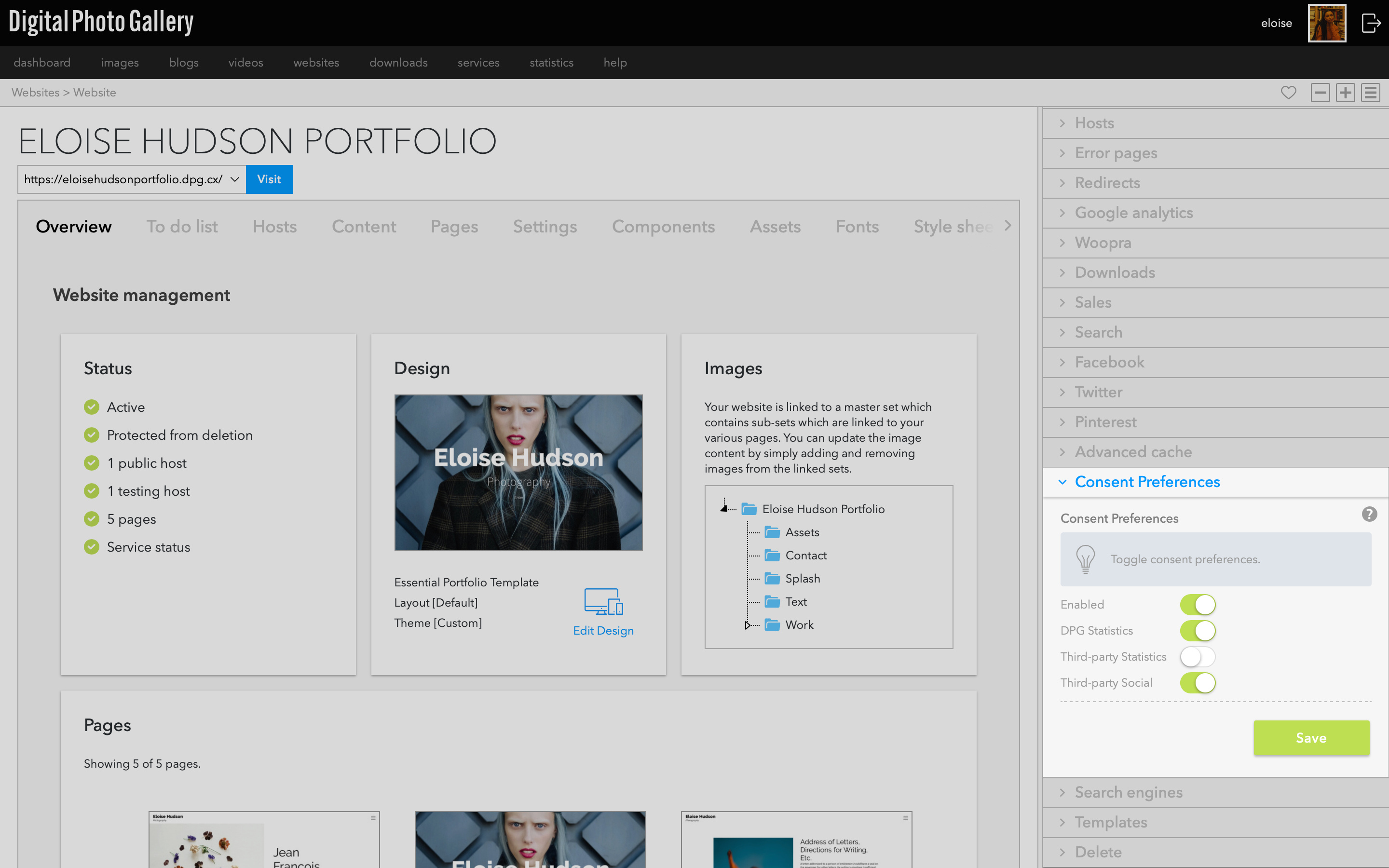 You can edit the options shown on the consent banner using the Consent Preferences panel on the website screen.
Adding analytics
If you add third-party statistics code such as Google Analytics, you should enable the
Third-party Statistics
toggle in the
Consent Preferences
panel.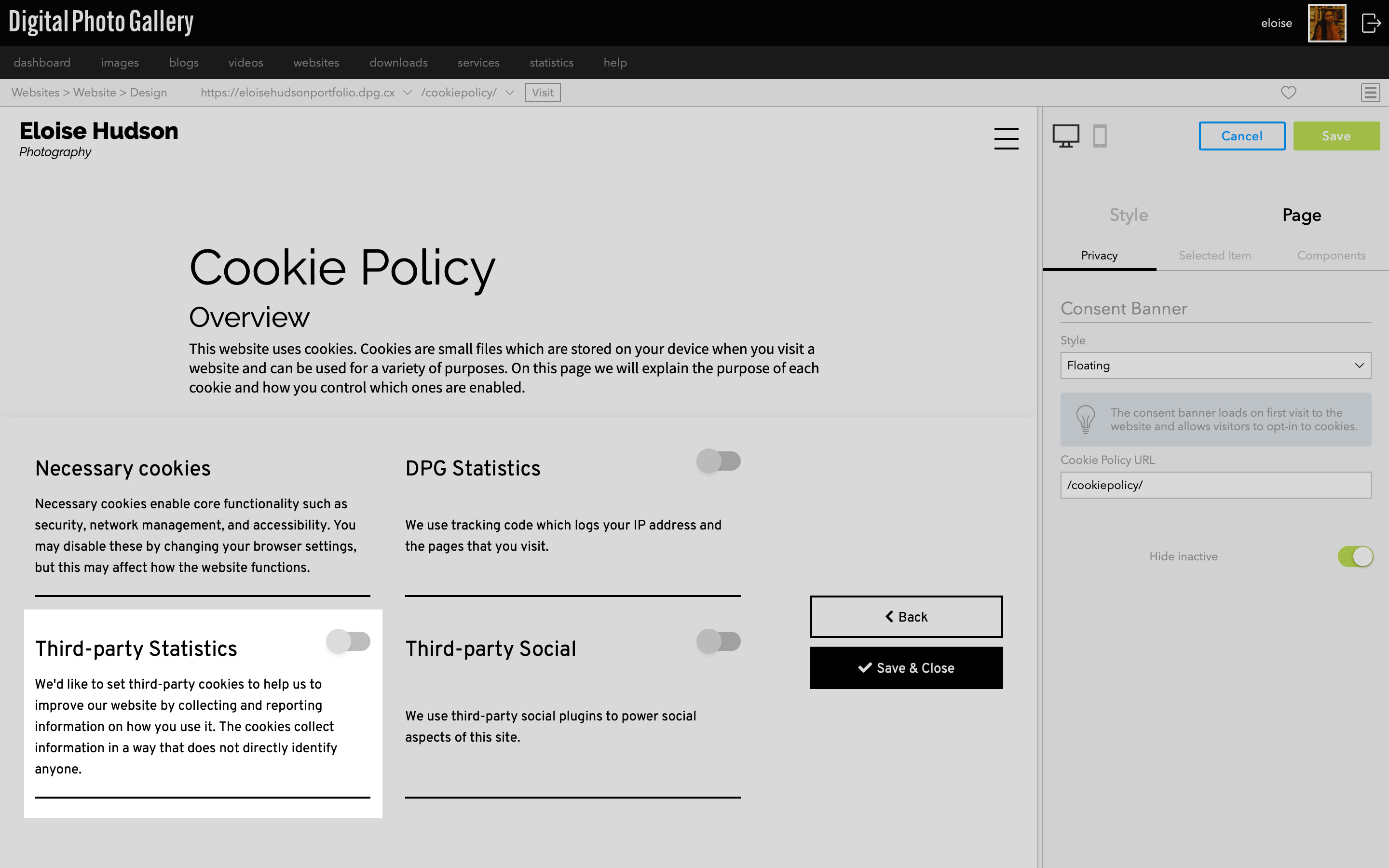 This will include the Third-party Statistics opt-in section of the consent banner.
Editing cookie text
From the website screen, go to Pages and Standard tabs. Click the Edit button on the Cookie Policy page. Here you can edit and add additional Cookie Policy information. Click Update at the bottom of the page to save your changes.
Add Privacy Policy page
From the website screen, go to Pages and Standard tabs.
Click Create, give your page a name and path and select Policies | Privacy Policy from the dropdown menu.
Under Advanced Options toggle the ** Add to navigation** toggle to the off position so that the page is not added to main navigation. Click Create
Once you have filled out the policy information, the footer links in Content > Footer > Links are a good place to link to it.
Once your page is created you'll see it in the
Pages
tab. Click the
Edit
button and then
Content
to replace the stock text with your own privacy policy text. Click
Update
to save.